The multi-faceted Johnny Rivers was born John Ramistella in New York on Nov. 7, 1942. In 1945, his house painter father moved the family to Baton Rouge, La. "We weren't poor" Rivers recalls, "we were double poor!" Rivers came by an old guitar when he was eight, and began to emulate his father, who played guitar and mandolin. He drew upon the rural blues influence of his geographic environment and developed a love of Ray Charles, B.B. King, Fats Domino and a number of black bluesmen. His musicianship improved as he progressed through school, and by age 13, he was playing in local groups.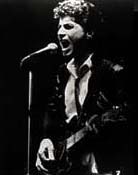 A year later, he had saved enough money to finance the first of many summer trips to New York and Nashville to seek work in recording studios. During one 1958 visit to the Big Apple, he met up with famed DJ Alan Freed, who changed his last name to Rivers and landed him a recording contract with Gone Records, which resulted in his first single, "Baby Come Back." Rivers persevered at school until graduation at age 17, playing all night and snoozing on his desk all day. Then he quit Baton Rouge and moved to Nashville, where he fell in with another young hopeful singer, Roger Miller. The pair began writing songs together and picked up some pocket money singing demonstration tracks for Elvis and Johnny Cash. His next move was to New York, where he signed on as a staff writer for the legendary Hill & Range music publisher. Success was minor, his most notable composition being "I'll Make Believe," recorded by Ricky Nelson in 1958. In 1960, he used his meager publishing earnings to move to Los Angeles, intending to pursue record production. During this period he continued to record for Era, Riveraire, Chancellor, Cub, Ghuyden and Dee Dee labels --- all with no chart success. His label-hopping landed him in the same stables as other soon-to-be-superstars, such as Jackie DeShannon, at Gone and Neil Sedaka at Guyden. At Chancellor, the home of Frankie Avalon and Fabian, there was a concerted effort to groom him into a teen heart-throb, to no avail.
In 1963, Rivers was invited to fill in at Gazzarri's nightclub after a jazz group suddenly departed. He called up drummer friend Eddie Rubin, and the pair began a three-night stint. By the third night, there were lines stretching around the block and Rivers was extended indefinitely.
From there he was booked at the Condor in San Francisco and then returned to L.A. to accept a lucrative offer from Elmer Valentine to open a lavish new nightclub based upon the popular European discotheque concept. After opening night it was obvious that he would not be returning to record production for a long time. He had become the new age Chubby Checker, and America was dancing.
"Johnny Rivers at the Whisky Au Go Go" turned Hollywood upside down. The "beautiful people" came flooding down from the hills to dance to his infectious boogie beat. His regular followers included Steve McQueen, Ann Margret, Sandra Dee, George Peppard, Rita Hayworth, George Hamilton, Tuesday Weld, Johnny Carson, Shelley Fabares, Richard Chamberlain, Laurence Harvey, Troy Donahue, Lana Turner and Gina Lollabrigida. Trendy hairdresser of the stars Jay Sebring groomed him for free, while equally trendy tailor Giacomo of Hollywood clothed him immaculately.
Before long, there was a Trousdale Estates mansion with a maroon Jaguar parked beside the pool and regular weekend football matches over in Bel Air with Elvis Presley and Jan and Dean. He was, without a doubt, in.
Whereas his early '60s recordings for MGM, Roulette, Capitol and Coral had been fairly routine assembly-line pop, Rivers suddenly swung himself into the rhythm and blues and soul of his roots. His first Imperial album Johnny Rivers At The Whisky Au Go Go, was high in the charts for 45 weeks in 1964, one of the few real American challenges to the Beatles. Like Pat Boone before him, Rivers began to propel white versions of black hits high into the charts, albeit with a great deal more style, class and respect.
His recording repertoire was drawn from the likes of Mose Allison, Lloyd Price, Ma Rainey, the Isley Bros., Rufus Thomas, Jimmy Reed, Ray Charles and Fats Domino. One of his own rare compositions summed up his musical tastes --- it was called "John Lee Hooker" and one recorded version of it extended almost 16 minutes. Chuck Berry's "Memphis" and "Maybelline" sent Rivers to #2 and #12 respectively. Harold Dorman's "Mountain of Love" made #9, Willie Dixon's "Seventh Son" hit (approximately) #7, and the traditional "Midnight Special" took him to #20.
By the time he finished his Whisky residency --- which produced more live tracks than can possibly be audited, he had racked up three gold singles. The secret of his magical formula had much to do with producer Lou Adler (later to spin gold for Jan and Dean, Mamas and Papas and many others, and originate the Monterey Pop Festival). Adler overloaded a constant fevered rhythm, driven along by relentless handclaps and an intense live atmosphere. In their way, Adler's productions for Rivers were as appealing as Frank Guida's steamy groundbreakers for Gary U.S. Bonds.
In one amazing year, Johnny Rivers stacked up six hot hits. By the end of the decade, he had sold over 20 million records. Toward the end of 1965, Rivers frantic sound was wound down a little for a tasteful version of the 1962 Kingston Trio hit, Pete Seeger's "Where Have All The Flowers Gone." A few months later, he capitalized on the Man From U.N.C.L.E. and James Bond's "Secret Agent Man," a Sloan/Barri television theme which catapulted him back into the top three. In July 1966 he scored his first and only number one with the beautiful "Poor Side of Town," self-penned with Lou Adler.
These crisp, perfectly commercial tracks were cut with the very cream of L.A.'s session community: Hal Blaine, Joe Osborn, Tommy Tedesco, Larry Knetchel, Bud Shank, James Burton, Larry Carlton, Mickey Jones and Jim Gordon among them. By 1966, Rivers was investing heavily in the music industry, leading to the formation of his Soul City label and Rivers Music. His discoveries within the first year were extraordinary, including young songwriter Jimmy Webb and pop-soul act the Fifth Dimension. He later uncovered the commercial talents of people like Joe South, Glen Campbell and James Hendricks.
As a performer, he continued to enjoy massive success, playing the Riviera in Las Vegas, Copacabana in New York and such television shows as Hollywood Palace, Ed Sullivan Show and Red Skelton Show. He regularly performed free troop shows, once traveling Vietnam battlefields in a helicopter to entertain GI's in war zones.
In 1967, Rivers hit upon the idea of reworking Motown songs, just as he had done with Chuck Berry classics. His interpretations of Holland/Dozier/Holland's "Baby I Need Your Lovin' " and Smokey Robinson's "Tracks of My Tears" were startling, and both streaked into the top 10. By this point, he was being well supplied with songs by his "discoveries." James Hendricks provided the seductive "Summer Rain," with its wonderful line about "Sergeant Pepper's Lonely Hearts Club Band." Jimmy Webb, fresh from monster success with the likes of "Up Up and Away" and "By The Time I Get To Phoenix," furnished "Tunesmith," "Carpet Man" and "Do What You Gotta Do." Joe South was responsible for the appealing, "These are not my people."
Rivers' impeccable taste in songs rendered each of his many albums a delight. On Slim Slo Slider, his move into the hirsute, sensitive, singer-songwriter period, he graced the works of Van Morrison, John Fogerty, Scott MacKenzie, Tony Joe White and Gram Parsons (of particular interest is "Apple Tree" a song Parson's never himself recorded).
His own songs, in which he seemed to have no great faith, matched the quality of his well-chosen covers, as is evidenced by "Going Back to Big Sur" and "Come Home America." The Home Grown album continued the spirit, with Rivers discovering more fine, but then-obscure writers, such as Jackson Browne and James Taylor. By this point he had assumed sole production credit. Effortlessly and inevitably Rivers gravitated back to his Southern roots with 1972's self produced L.A. Reggae album, highlighted by a fiery version of Huey Smith's "Rockin' Pneumonia --- Boogie Woogie Flu" that shot him back into the top 10.
1973's Blue Suede Shoes LP saw him at home with the songs of Curtis Mayfield, Johnny Otis, Leiber and Stoller and Muddy Waters. Last Boogie in Paris (1974), featuring such choice sidemen as Jim Gordon, Herb Pedersen and Dean Parks, yielded another hit in the form of Frankie Ford's "Sea Cruise." 1975's New Lovers and Old Friends gave us Brian Wilson singing background on a version of "Help Me Rhonda" that quite possibly eclipsed the original --- another sizable hit.
On through the '70s and into the '80s, Johnny Rivers has remained a respected contemporary music figure to whom the chart doors are never closed. "Slow Dancin' " (1978) illustrated that, by returning the great interpreter to the familiar terrain of the top 10. The recent Borrowed Time album has affirmed his enduring talent, and a 1986 live LP on MCA proved Rivers' ability to perform his hits precisely as he'd first sung them.